If you're wondering what people did before eBay, the short answer is yard sales. The practice of putting ones old or unused items up for sale to the public can be found in just about every neighborhood on any weekend of the year. However, there are many who have made the yard sale far more than a mere diversion. However, they never had such an international medium to share their advice.
To that end, we have gathered the top 50 blogs for yard sale aficionados, which are full of tips, tricks, design help, style information, and much more. Often written by those who are the first on the block to hit a yard sale, flea market, thrift store, and more, get the real inside scoop on yard sales.
Top Blogs for Yard Sale Aficionados by Yard Sale Aficionados
These bloggers have turned the yard sale into a form of art and share more on their blogs.
1. Yard Sale Queen : Chris is from Maryland where she is addicted to yard sales, garage sales, thrift stores, and any bargain hunting in general. After she had her son in 2000, life has been one giant search of the perfect bargain. Tips for both sales and purchases are given.
2. Yard Sale Bloodbath : Here you'll find the blogger's various thoughts on yard sales and related subjects, ranging from philosophical musings to "oh my god, I can't believe that person was trying to sell their used granny panties." Meghan and Jenny live in the Seattle area and named their blog after an unfortunate incident with a copy of Disco Bloodbath. Categories include field trips, sales tales, and junk in the trunk.
3. Yard Sale Snoop : Toronto Yardsaler prowls for "thriftacular vintage." With the upcoming holidays, the blogger is on the hunt for decorations and shares loads of pictures and tips. There are also loads of useful links for arts, crafts, and related sites.
4. Svelte Stuff : Get a glimpse into the stuff acquired by a "teen of the eighties with a soul from the 50's"in this blog. The perfect trifecta for this blogger is a piece of Royal Haeger, a Vera, and a Sweater Clip all in the same day. She recently shared a wedding photo, along with thoughts.
5. Sir Thrift A Lot : Women aren't the only ones who have yard sale blogs. This blogger hits up yard sales, thrift stores, and more with the male in mind. He also has information on giveaways.
6. Vonlipi's Favorites : A few of the blogger's favorite things include "pyrex, bacon, cats, and cheese in a can." There are also various trips to yard sales and other related sales. A recent entry was on a fantastic couch find.
7. Yard Sale Addict : Although the blog was shut down earlier this year, entries date all the way back to 2004, making it one of the most comprehensive yard sale blogs out there. With 493 entries for 2005 alone, make time for this one.
8. Brooklyn Flea : The ultimate yard sale, this blog focuses on the flea market of Brooklyn. Happening every weekend, they feature over 150 vendors and their goods. Also a good choice for a behind the scenes look at a flea market.
Top Design Blogs for Yard Sale Aficionados
You don't have to visit a yard sale to check out the designs of the people who use them to sell.
9. Design Sponge : Brooklyn based Grace Bonney fills her blog with all sorts of design ideas and inspirations for everyone. Check out the DIY projects, before and after furniture makeovers, home tours, recipes, videos and podcasts, and so much more with a visit. A recent entry was on the design of the film "Beetlejuice."
10. Rust & Ruffles : Get vintage inspired design from this blog. Janis Gurney is from British Columbia where she showcases both her designs, along with those of others. Inspired ideas are often the topic of posts.
11. The Thrifty Ba : This blogger is out to save her readers some money and help them enjoy crafting. Labels include everything from art to Wal-Mart. How she spends football games was the topic of a recent post.
12. Trash to Treasure Decorating : Learn how to turn another person's trash into your treasure with the help of this blog. Ideas for taking discarded objects, yard sale finds, and stuff from your own basement and giving them a second chance are all discussed. Transformation Tuesday is often a hot topic.
13. Musings of a Sea Witch : This blogger sells antiques, creates jewelry, and even sews her own creations. Visit her blog to see them all, or get a few tips for your own. A recent entry was on a trip to Georgia.
14. Hello my Name is Heather : She is a fabric designer, inventor, and mother to two kids. The blog is a manifestation of her need to create, along with many of her creations. Get loads of tips for designs and inspiration with a simple visit.
15. Claudine Hellmuth : This mixed media artist is from Washington, D.C. She is also an author and illustrator. There are loads of tips for arts and crafts and even a video on how to color mix properly.
Top Style Blogs for Yard Sale Aficionados
See how style and yard sales can combine as one in these blogs.
16. Grunge Queen : Kelly is a thrift store fashionista and dumpster-diving decorator living in Toronto, Canada. She is addicted to cultivating chic personal style on the cheap and with minimal effort or crafty talent. Readers can check out her tips and tricks for making the most of yard sales in their areas.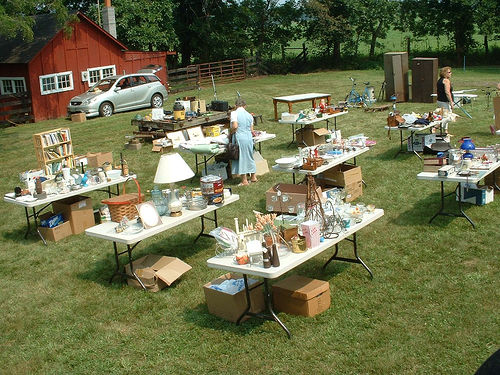 17. Everyone Goes to Mick's : He is the owner of a 1943 cabin and blogs all about the goings-on there. With a passion for turning vintage into style, Mick shares all sorts of tips to turn the retro into the fabulous. A recent entry was on a Halloween party.
18. DC Goodwill Fashionista : "Fashion at your fingertips" is the tagline of this blog. The blogger writes exclusively about finds at Goodwill and how to turn them into high fashion outfits. Even makeshift Halloween costumes are the topic of posts.
19. Bargain Hunter Extraordinaire : Learn the "thrill of the hunt" for bargains with the help of this blog. Amy is from Boston where she uses her blog to show how fashion doesn't have to cost. A combination of thrift store, online, and in person shopping is done.
20. Another's Treasure : Amanda is a thrift shop loving, estate sale hunting, bargain finding journalism grad. Both thrifted finds and style are featured on the blog. The treasures of an estate sale where the topic of one of the current posts.
21. The Elegant Thrifter : This blogger also authored a book entitled "The Find: Housing Works Book of Decorating with Thrift Ship Treasures." The blog continues in that tradition, showing how style can all begin and end with the thrift store.
22. Chic on the Cheap : Learn how to make the most of your clothing budget with the help of this blog. Loads of images show items found and utilized. There is also a monthly budget, and the blogger shares how much it is and what it goes to.
23. Thrift Eye : Eli (short for Elizabeth) began this blog in 2006 to keep note of all things she found while on thrifting escapades. However, the blog soon evolved into a diary of all the fashion items she was able to find. Visit to view and get ideas for your next thrift shop visit.
24. Style Symmetry : Explore the reaches of personal style in this blog. Eyeliah is from Canada and was hugely influenced by her first pink polka dot dress. Categories on the blog include everything from giveaways to reviews.
Top Thrift Store Blogs for Yard Sale Aficionados
Also known as the indoor yard sale, check out these thrift store blogs.
25. The Thrifty Groove : This blog helps you start pinching pennies and make the most of bargains. Diann has loads of interesting tidbits on how to make the most of both your online and in person shopping. A recent entry was on discount magazines.
26. The Thrifty Chicks : If you live in Denver, Portland, or Vermont, these bloggers have thrifting tips for you. Different aspects of thrifting, such as the used and reused, are featured. They also often debunk myths associated with thrift stores.
27. Thrift Store Horrors : Check out the best of the worst on this blog. Pictures of horrific items that could be found only at a thrift store are shared here. The most recent was on a White Elephant gift gone wrong.
28. Thrift Shop Romantic : From tablescapes, holiday and other budget decorating using thrift store items, to funny vintage recipes, this blog covers a wide range of thrift store topics. Get old fashioned fun on the cheap and reviews for Western Pennsylvania shops. Favorite posts include farm journal ads, extreme entertaining, and war bonds.
29. Dime Store Thrift : Sonya is a former on-air radio personality and now an at home mom to two kids. She also haunts thrift stores to find secondhand vintage treasures. A recent entry was on glittery picture frames.
30. Thrifted Treasure : This blogger is from Sydney, Australia where thrift stores, garage sales, and flea markets are also to be found. Her favorite finds and love of all things are shared via blog. She even shares how she helps items purchased reach their true potential.
31. Queen of Fifty Cents : Sharon spends each Saturday morning at the thrift stores. Be sure to check out "Shopping on Driveways," a short film on her finds. She can also show you how to join together purchases to create something unique.
32. Apron Thrift Girl : Selena began shopping thrift stores to help send her children to school. When not in the thrift store, she spends her time reading, writing, crafting, learning, cooking and creating new businesses. Posts are on everything from musings to tips for selling your own crafts.
33. Thrift Candy : Missa shares one girl's adventures in thrifting. Pictures of finds, along with the kids, are usually shared.
34. Things I Found at the Thrift Store : Thrifting, frugality, upcycling, and green living are all featured here. Videos often accompany each blog entry. The most recent was on how to pick out frames at a thrift store.
Top Frugality Blogs for Yard Sale Aficionados
Learn how to stretch pennies even further with these frugal living blogs.
35. Festival of Frugality : Start your frugal blogging here. They gather the best the web has to offer in money saving blog entries to one place. There are over 250 festivals and counting.
36. Almost Frugal : Both samples and coupons can be found on this blog. Beth also includes loads of tips for frugality for the seasons, family, and more. More tips on living the frugal life are given as musings.
37. Frugal Living Tips : Learn all about the frugal lifestyle with entries such as frugal shopping, recipes, gardening, traveling, and much more. They also feature advice on money saving and financial freedom. There is even a daily coupon to take advantage of.
38. Frugal Babe : Live "a rich life without a lot of money" with the help of this blog. The FB has interesting posts such as owning your own gym for $300. She also gives recommendations on related eBooks.
39. Frugal Dad : The FD "makes frugal cool again" in his blog. Choose from sections such as becoming a millionaire or how to get out of debt. There are also useful tips for teaching kids about money.
40. Saving Queen : Click here for a one stop shop for printable coupons. Offers from just about every imaginable vendor are featured. There is also information on giveaways and samples.
41. The Frugal Life News : This online community brings the latest in frugal living to its blog. The blog is also sponsored by an herb store which also has tips for frugal livers. A recent entry was on how to protect against identity theft.
42. Uncommon Cents : Personal finance and frugality combine in this blog. Entries range on everything from money saving tips to stock information. They also inform on scams and other ploys to stay away from.
Top Miscellaneous Blogs for Yard Sale Aficionados
The yard sale is only part of the story of the below blogs.
43. Junkologie : What does junking have to do with yard sales? Check out this blog to find out. Topics include how junking is good for both the mind and the planet.
44. Carter's Junk : Check out this popular blog to learn even more about junking. Choose from books, a shop, and news. You can also check out the journal with the latest.
45. Vintage Rescue Squad : Sue is an unrepentant junker, yard saler, and admitted (and oft-busted) garbage-night picker. She started this blog to help sell her restored finds. She recently revealed the secret to selling goods in an antique mall.
46. Disturbing Auctions : Yard sales aren't the only places to save some money. With both online and in person auctions a source of finds, get a look at some of the more bizarre here. Categories include art, clothes, emotionally scarring toys, and more.
47. Bohemian Vintage : Not only can you learn more about the art of restoration of vintage items, but you can also purchase them here. They also offer architectural, design, and decorating services. Visit to see the latest.
48. Reduce, Reuse, and Rummage : Non-consumerism and thrift shopping combine on the blog, which acknowledges the unusualness of the pairing. RRR uses vintage and used items to quench her thirst for shopping and shares more. Rummage sales are often the topics of posts.
49. Dumpdiggers : Dumpster diving is taken to a whole new level in this blog. It often showcases the best of what was literally found in the trash. The most recent includes Four Seasons bottle collections.
50. The Pyrex Collective : Similar to Tupperware, Pyrex is often a staple of the yard sale. Learn more on how to maximize it with a visit to the blog. It is written by a large group of Pyrex lovers and is easy to join.
Whether looking to put on your own yard sale or searching for inspiration for design, the top 50 blogs for yard sale aficionados has loads of tips. You can also get inspired for your next trip and help find that next buried treasure.